Preopening urbanlunch
ab 23.08.2022
von Dienstag bis Donnerstag
11.30 – 14.30 Uhr
wöchentlich wechselnde Karte
Next step into the future:
ab dem 05.09.2022 wird das werkcafé noch flexibler!
Digitale preorder, 24/7-Lieferstationen
und weitere innovative Food-delivery-Konzepte
machen Pausen auf dem urbanharborareal so entspannt wie nie.
Smart. Komfortabel. Nachhaltig.
Wir freuen uns auf Sie!
Max Preisser und das urbanharbor werkcafé Team
Unser werkcafé im Herzen des urbanharbor.
Ab dem 23.08.2022 bieten wir Ihnen wieder im werkcafé unseren urbanlunch an, der Genussinnovation und Heimatliebe, Nachhaltigkeit und Qualitätsbewusstsein miteinander vereint.
Für den verantwortungsvolle Umgang mit Energie, Wasser und Lebensmittel basiert unser Konzept auf dem Prinzip der regionaler Kreislaufwirtschaft, von unseren Lieferanten bis hin zu unseren Gästen.
Unterstützt wird unsere Vision durch das digitale Mehrwegsystem des schwäbischen Innovationspreisträgers Rieber.
Alle To go- & Delivery-Speisen werden im digitalen Rieber Mehrwegsystem eatTAINABLE, ausgegeben. Die langlebigen Edelstahl-Foodboxen sind pfandfrei, absolut lebensmittelverträglich und zu 100 % recyclefähigen. Dazu auslaufsicher, stylisch und handlich zu transportieren.
Zero Einwegmüll, maximale Frische und Geschmack.
Einfach über die App die Einwegersparnis tacken.
Wer schafft die höchste Einweg-Einsparung?
— 
eatTAINABLE APP DOWNLOAD: 
—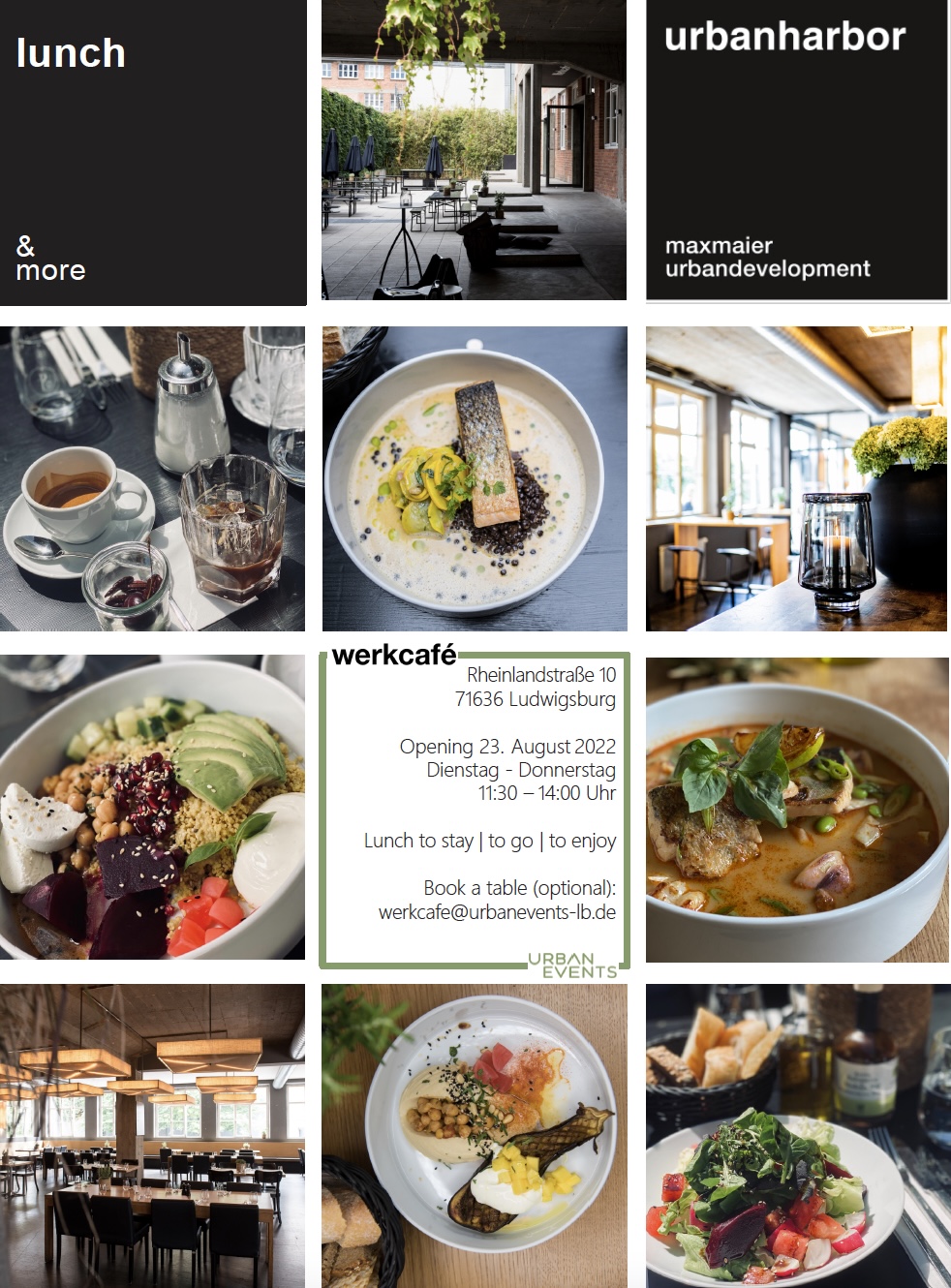 Raum für
Veränderung.
Sie haben Fragen zur Location?
maxmaier®
urbandevelopment
Andreas Naumann
Real Estate Administration
maxmaier urbandevelopment
Schwieberdinger Straße 74
71636 Ludwigsburg
Telefon: 07141 479 144
Telefax: 07141 479 299
E-Mail: event@urbanharbor.com